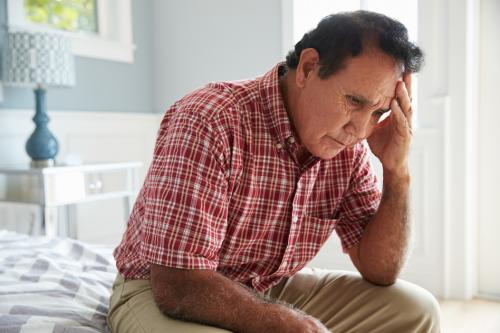 Hearts are by nature vulnerable. They have to be in order to be capable of love.
When the heart takes a hit, we stagger back. We blink, and wonder what just happened. A fog descends. Everything might look the same, but life is different.
Such is grief.
Our hearts struggle to make sense of the loss. We don't want to believe it. We go into emotional shock.
Then our emotions awake. We find ourselves on a roller-coaster that leaves us shaken and gasping for air. Anxiety, fear, and fatigue take their toll. Exhaustion sets in. 
Grief becomes a weight. Everything feels heavy. Then here comes the depression.
When Joy Evaporates
"I have no motivation. I don't want to do anything. Nothing sounds good. I manage to get out of bed, but I don't want to," Tamara shared in a pained whisper.
She sighed, and looked out her living room window.
"I can't go any of the usual places. It's like all joy evaporated. I feel depressed," she said.
Depression is a natural part of grief. When the reality of your loss sinks in, things can grow dark. Fun is nowhere to be found.
You might experience some extreme sadness, lack of motivation, and general disinterest in life. You could find yourself pulling back relationally and wanting to hide.
This is natural. You've been severely wounded, and you're recovering.
Here's a grief affirmation:  
"I may experience some depression. A light in my life has been extinguished."
Normal depression during this time can keep you down for a day or two, but doesn't control all of life. You still get out, function, and carry on some daily activities.
If this lack of motivation, withdrawal, and general disinterest become constant and continue for more than two weeks, it's time to seek professional help.
See your medical and mental health professional immediately.
Adapted from the bestselling Heartbroken: Healing from the Loss of a Spouse (USA Best Book Award Finalist, National Indie Excellence Book Award Finalist)
Article Images