Rekindling An Old Friendship…
"Eventually, all things merge into one and a river runs through it. The river was cut by the world's great flood and runs over rocks from the basement of time. On some of the rocks are timeless raindrops. Under the rocks are the words and some of the words are theirs. I am haunted by waters." – Norman Maclean, A River Runs Through It.
I have just returned from a family vacation in Jamaica. It's been a long time since I've been at a beach destination and there's a reason for that. Almost seven years ago, Mack died in the water, a lake to be exact and ever since, I have stayed away from all forms of water. I can actually count the number of times I have been swimming on one hand and most of those were in 2009 when David and I took Ruby to Disney World. She wanted us to go in the pool with her so I mustered up the strength and obliged my daughter. By then, Ruby knew how I felt about water but it was hard to argue with her wisdom when, at the age of ten, she very logically told me that it wasn't the water's fault that Mackie died.
She was right but it still didn't change how I felt. I lost my son and with his loss, my love of water evaporated. I have friends with country homes on lakes and have received numerous invitations to visit which I have declined. They understand but let me know that I am always welcome. So why did we decide to take a beach vacation now? My brother-in-law lives in Negril and just married a lovely Jamaican woman. The time had come and I decided that I was ready to try so we joined family members and flew out to have a wedding celebration.
I was nervous, I was staying right on the beach and didn't know how I would react to the water. One of the hundreds of after effects that a grieving parent deals with relates to the circumstances in which their child died. I have been haunted by waters.
The ocean is an old friend of mine but I had to turn my back on it. I am pleased to be able to say that I have rekindled my friendship with the ocean. I spent long periods of time in it and jogged next to it almost every day and when my daughter asked me to go swimming with her this time, I was genuinely very happy to say yes. I did not feel any anxiousness nor did I break down and cry. I simply enjoyed it and revelled at what a majestic force of nature the ocean really is.
I don't see myself making friends with any lakes in the near future. Their dark waters are still sinister looking to me and the horrible memory of seeing my son pulled out of one has not faded one iota. Maybe one day, just not now. I'm still on the fence about pools. But the ocean, calm and tranquil or choppy and rough, with the most beautiful shades of greens and blues; we are friends again and I will settle for that.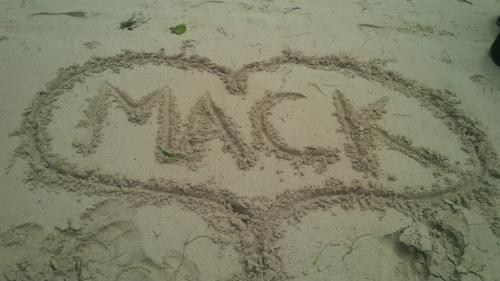 Article Images